Safety Training Doll Testimonials -
Happy Fall from Delaware Office of Highway Safety!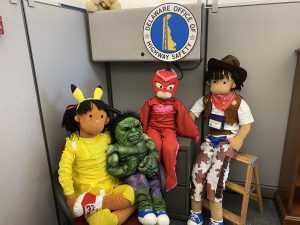 I have been a Child Passenger Safety Technician Instructor for 10 years and there are three things I never forget when leading a CPS class: technician manuals, car seats, and Huggable Images Dolls! These adorable dolls are perfect for teaching because they come in multiple sizes which makes teaching each type of seat that much easier by showing how children should be properly restrained. Not only are the dolls top quality, but the company has amazing customer service, with owners who are dedicated to safety by working with CPS instructors, techs, and other injury prevention professionals to ensure their product fulfills our needs. Thank you Huggable Images for everything you do to make our jobs easier!
Amanda Horner, CPS Instructor
While we can't ever truly mimic a real baby, the huggable dolls allow us to get the point across to students, showing correct harness fit, and the basics of how a child should look in a car seat.
They also allow us to have some fun and dress them according to our weather forecast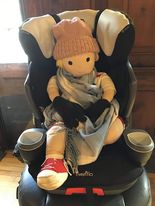 Jackie Stackhouse, CPS Instructor, NJ








Jeanie was incredibly accommodating and supportive of the needs of Canadian organizations like ours. I had pre-ordered several dolls and made special arrangements to pick them up at the Kidz in Motion conference to bring back to share among instructors our area. Being able to pick up the dolls in person in this way meant that we could avoid expensive costs associated with shipping them across the border. Jeanie really went above and beyond – she even called me before she left to make sure she had the right dolls we needed.
Huggable image dolls are essential to the way we teach nurses, police officers, and family resource centre staff – and the ways we reach parents and caregivers.
Here are two media interviews where huggable images were key this year:
https://www.facebook.com/globalhalifax/videos/334493950961925/
Katherine Hutka
Child Safety Link, IWK Health Centre in Halifax, Nova Scotia

&nbsp
&nbsp

I use the infant doll a few times a week at minimum, as I do a lot of prenatal car seat checks. It's one of the most valuable tools in my tech kit! Love the weighted head, great for explaining "chin to chest" movement that we don't want to see in infants. The stiff, sand filled back is great for showing proper positioning (bum to the back of the seat). Put a diaper on it and a sleeper (to mimic a real baby), and you're good to go!
Celia Ambeault